Gold prices have been shooting through the roof in recent years, and has allowed for opportunities for both consumers and businesses to make some money. The rising gold prices have also contributed to the creation of many businesses that are trying to purchase gold from consumers to turn a quick profit. Make sure you understand the gold market before you sell gold jewelry.
For about twenty years (from roughly 1985 to 2005), the price of gold consistently hovered near the $500 per ounce mark. In the last five years or so, the price of gold has absolutely skyrocketed to its current price of $1,539 per ounce, and it looks to continue rising.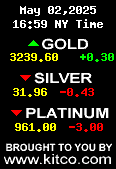 Through the world's history, gold has been used as a platform for monetary exchange either through gold coins (or other metal quantities) or through gold-convertible paper instruments. At this point, gold (and direct convertibility of currencies to gold) is no longer used as currency – it's been replaced with fiat currency.
Due to the growth of economies in 1900s and the rise in foreign exchange, the world's gold reserves have become a small portion of all markets. Following World War II, gold was replaced by a system of convertible currency.
Production of gold has not grown in relation to the world's economies; in fact, today gold mining output is declining. With this information, one can assume that the price of gold will continue to grow, and opportunities to profit from this growth are aplenty! With Cash for Gold you can rest assured you get the most money for your precious materials.
Gold prices have risen at an astounding rate these past years, and there has never been a better time to cash in on your new, used, old, or broken gold! The price we will pay for gold is among the highest in the industry, a result of Cash for Gold USA's direct connection with a precious metal refinery.
At Cash for Gold USA, we guarantee to pay you the most out of any cash for gold company and fast! We will mail you your check within 24 hours of receiving your products, and at times, we pay more than competing companies. If you aren't completely satisfied with your offer, we'll ship the items back immediately.
Understanding the gold market can be difficult, so here's what you really need to know: Gold is at an all-time high due in part to the economic crisis, the recent decline in gold production, and the fact that gold and oil prices are connected. Once you educate yourself on those three topics, you'll have the best understanding of the gold market and why the price of gold is so high.
Our Gold Prices
Cash for Gold USA ensures that you get the price you deserve for your gold products.
Cash for Gold USA promises the highest payout of any cash for gold company, and we promise to turn your unwanted jewels and gems into a great payout, quickly and conveniently! In this section, you'll view some of the funniest and most valuable shipments we have received throughout the years.